---
Services
---
We are happy to take on all of the simple but time-consuming activities – allowing you to focus on your main activity.

We offer each client a tailor-made package of services that meets the needs of their specific organisation.

---
Computer equipment rental
Managing the entire life cycle of IT equipment – from the mapping of needs to disposal.
---
Mapping of needs – we often see that the customer has invested too much on computer equipment, which means higher monthly costs.
Procurement of equipment – as large-scale suppliers, we are able to offer the best price on the market.
Equipment preparation – we fully prepare the computers for operation, from the installation of the necessary software to the transfer of information and delivery. Ensuring that work can continue without interruption.
Insurance – we cover all risks for the duration of use.
Asset Management online information system – 24/7 control over all equipment.
Replacement of equipment with new ones – we replace equipment at the end of its service-life.
Deletion of information – we completely delete information from old computers with the help of the security partner Blancco.
Disposing of equipment or sending it off for another round.
---
Short-term computer rental
We offer short-term rental, for example, for 1 month. We also have no problem offering large quantities of computers.
Buyback of IT equipment
Before you start renting Green IT, we will make an offer to buy your old computer equipment.
Asset management information system
A 24/7 overview of all your IT assets.
"Return when You want" rent
The only computer equipment rental in Estonia that doesn't bind your hands or feet! Return equipment at any time before the end of the rental period. Without any fines.
---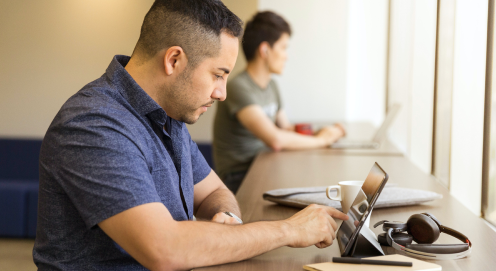 Green IT renew– refurbished computers
We will use all the equipment to the very end and only dispose of it as a last resort. Most of our business class equipment heads off for another round, for example, in educational institutions.
We update the equipment and give it a warranty of at least 12 months. In the case of rental, the customer receives a guarantee for the duration of the rental period.